Services
Perhaps you're a business man or woman, or someone with an interview coming up, or someone who is in need of professional dry cleaning. Whatever your needs, Charleston's Premier Cleaners for over 80 years can help you bring your look from good to great! We offer same day cleaning, suede and leather cleaning, professional wedding gown care, and more. Lyerly's also strives to be a green Dry Cleaner by using and recycling a hydrocarbon solvent, the safest and most effective solvent for our customers and employees. Bring your garments by for a clean and freshly pressed look by Charleston's Best Dry Cleaner! Because Image Matters.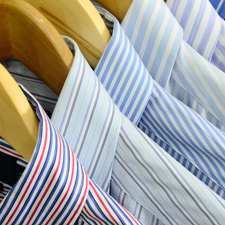 Prestige Shirt Services
Includes free button replacement, pre-spot treatment of stains, your preference of starch level, and your choice of hangers or folded.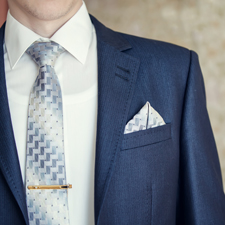 Dry Cleaning Two Day Service
Two day Dry Cleaning at all of our locations. In by 9 am, out by 5 pm. We pretreat, dry clean, and hand press each individual item!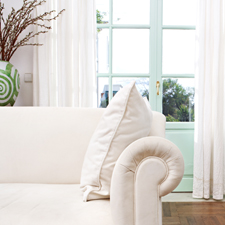 Household Items
Specialize in removing, cleaning, and hanging curtains. We clean all other household items such as napkins, couch cushions, comforters, and table cloths.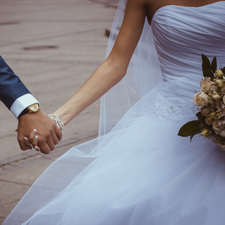 Formal & Wedding Gowns
Your wedding day is one of the most important days of your life. Let us help you restore your wedding day memories!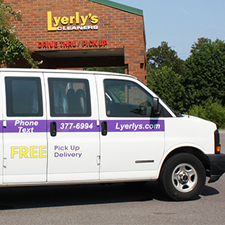 Lyerly's 2 Go
Free Pick-up and Delivery Service. Sign up today for our weekly pick up
HERE
. Your clothes will be delivered to your door clean and fresh!
Environmental Commitment
Lyerly's Cleaners has, over the years, partnered with the major industry associations dedicated to improving the operational metrics and environmental responsibilities that confront laundry and dry cleaning facilities throughout the Southeastern United States. As a local good citizen we pride ourselves in using the most advanced processes and equipment available to our industry to make certain that the communities that we service are kept as free of contaminants and waste products from our operations as humanly possible. We are continually evaluating new alternatives to the laundry, dry cleaning, and smoke/fire & mold/water restoration operations of our business to even better support our commitment to keeping pollutants from harming those we serve.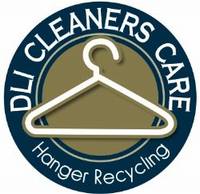 Please join our efforts by recycling, wherever possible, hangers and other items that you receive from us as part of our service to you. Thank you for your thoughtfulness and cooperation.
Drive Thru Service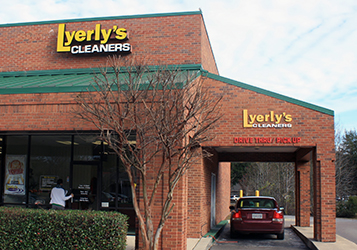 We are proud to offer Drive Thru's for your convenience at several of our locations.
Please visit our Locations Page to find your nearest Drive Thru.